Energy meter WM3x6
Energy meters WM3x6 and WM3M6 (MID certified) are intended for energy measurements in three-phase electrical power network and can be used in residential, industrial and utility applications.
Meter measures energy directly in 4-wire networks according to the principle of fast sampling of voltage and current signals. A built-in microprocessor measures active / reactive / apparent power and energy, current, voltage, frequency, power factor, power angle and frequency for each phase and total sum.
The microprocessor also controls LCD, LED, IR communication and optional extensions.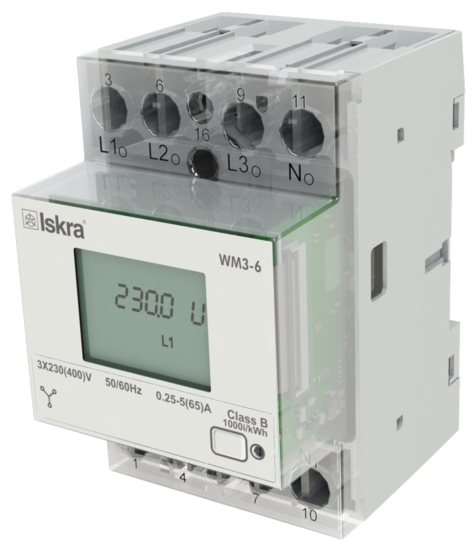 Energy meter WM3
three-phase direct connected DIN-rail mounting meter
MID approval (option) WM3-6 or WM3M6 Class 1 for active energy according to EN 62053-21 and B according to EN 50470-3
class 2 for reactive energy according to EN 62053-23
maximum current 65 A (Imax)
basic current (Ib) 5 A
reference voltage 3x230 V / 400 V (Un)
voltage operating range - 20% ... + 15% Un
reference frequencies 50 or 60 Hz
power consumption voltage circuit 8 VA at Un per phase
power consumption current circuit 0,8 VA at Ib per phase
temperature range climatic condition as indoor meter according to EN 50470
display 7+1 digit (100 Wh resolution)
multifunctional front red LED
LED constant 1000 imp / kWh
IR serial communication
measurements of: active / reactive / apparent power and energy (each phase and total); voltage for each phase; current for each phase; phase to phase voltage; phase to phase angle; frequency; power factor (for each phase and total); power angle (for each phase and total); active tariff (option)
pulse output according to En 62053-31 (option)
tariff input (option)
RS-485 serial communication (option)
M-bus serial communication (option)
DIN-rail mounting according to EN 60715
sealable terminal cover
3 DIN modules width