Sustainability at Iskra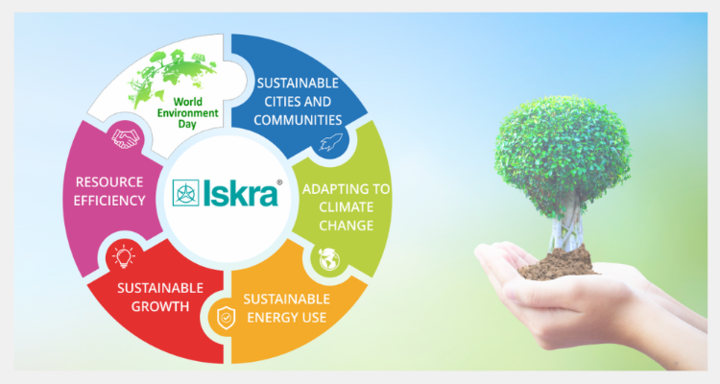 At Iskra,we have always taken a sustainable approach to business. Sustainability is a key part of our company vision and of the value that we create for all of our stakeholders.
Creating an environmentally friendly company is a process that requires constant improvement, investments and innovations. In the eyes of the world's population, it's time to act on climate. We value maintaining a healthy environment for our future.
We focus on long-term strategies for making a positive impact on the environment, and that is exactly what Iskra is doing and will continue to do over the years. Our goals – some already reached – are: cutting CO2 emissions, preventing pollution, lowering energy usage, sustainable energy use, adapting to climate change, and encouraging sustainable behavior.
Through our leading technologies and responsible business practices, we also contribute to the Global Sustainable Development Goals which are the blueprint to achieve a better and more sustainable future for all.
Smart Energy Consumption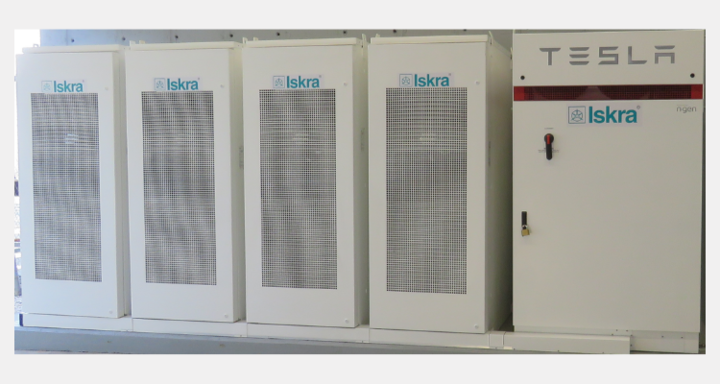 We were proud to be the first to connect a battery in the Slovenian network. The energy storage system was installed at our business unit in Kranj - Slovenia.
With the installation of Tesla batteries which store energy, we have managed to reduce our electricity bill and positively impact the environment, as we regulate the positive and negative peaks in the distribution network, thus preventing uneconomical energy use and unnecessary shutdowns of power plants.
Constantly investing in gas and biomass cogeneration, selecting materials that don't pollute the environment, and being sustainable in the energy sector means we are reducing energy waste, thereby increasing energy efficiency. We are committed to adhering to the highest standards of environmental protection and sustainable development. We are constantly striving for improvements in all areas of our operations.
So what more makes Iskra an environmentally friendly organization? Being in this industry for over 70 years, we have calculated our carbon emissions and created a strategy to neutralize them. In the year 2019, we have produced 4 819 t CO2 while electrical energy generates the most of it. In order to reduce our CO2 emissions, we have prepared a strategy that on yearly basis will cut our emissions in total for 845 t CO2 such as:
Energy efficiency as a key component for long-term success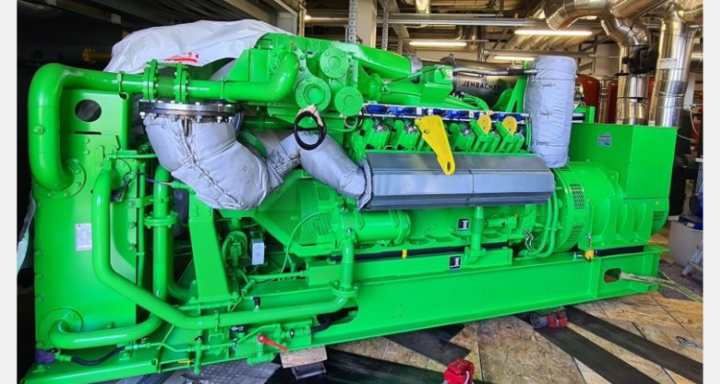 As energy is a key competitive factor for all industries when it comes to efficient use of resources, energy costs and other environmental concerns, the continuous optimization of energy consumption is closely linked to appropriate planning, monitoring, analysis and adjustment. At Iskra we use our own developed comprehensive solutions to optimize energy use. Our comprehensive solutions for energy management provide the following benefits: savings due to energy optimization, centralized view of different measurement points, detection of unexpected and unusual patterns in energy consumption, etc.
At our business unit in Kranj just recently we have replaced our old cogeneration unit with a new more efficient 1 MW machine. It is used for cogeneration of heat and electricity ensuring higher efficiency and lower consumption of primary energy or natural gas. The new unit is 1.8% more efficient compared to the previous system and above all will also provide heating for the business unit in Kranj and will be used for production of electricity.
Part of best practices at Iskra is also the "Multipoint Metering and Control" concept, which increases efficiency by intelligently controlling the energy consumption of all systems on a single device.
Sustainable renovation of the Ljubljana railway station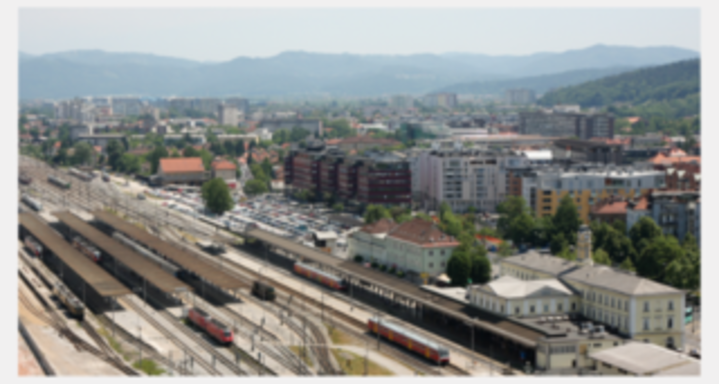 Iskra is cooperating with Slovenian railways in the sustainable renovation of the Ljubljana railways station. There we plan to modernize railway station so it will efficiently and sustainably operate for another 50 years. We are focused on a few more sustainable projects such as implementing energy management systems at all of our business units, installing LED lighting at our locations, investing in solar power plants, water recycling and optimizing its use by increasing the efficiency of rainwater and recycling water. We support energy and ecological start-ups such as Planet Care, which received several accolades for its water filtration and purification system.
Sustainability starts with people, that is why we encourage our employees to live by its standards. In the scheme of things we have put an end to the use of plastic cups and paper in certain departments, planted many trees at our locations, and own electric vehicles. You can also find e-charging stations at all of Iskra's locations.
Iskra offers a large number of sustainable solutions in the energy sector, traffic, telecommunications, and many more. Use the form below to get in touch with our experts and discuss about your own specific projects.