Measuring transducers MT 4xx
Measuring transducers MT 4xx are intended for measuring and monitoring single phase or three-phase electrical power network. It has power accuracy class 0,5, according to the standard EN 60 688 and is intended for electricity distribution and energy production companies, utilities, dwellings, industry, designers of small power stations, panel builders, etc. It has also a certificate for marine application.

Free software tool Miqen included. Miqen is a user –friendly toll for complete monitoring of the measuring instruments.

Why Iskra? With years of expertise and innovation we can guarantee you a top quality products with high functionalities at a great price. Measuring instruments, made in Slovenia – Europe, are guaranteeing accuracy and durability.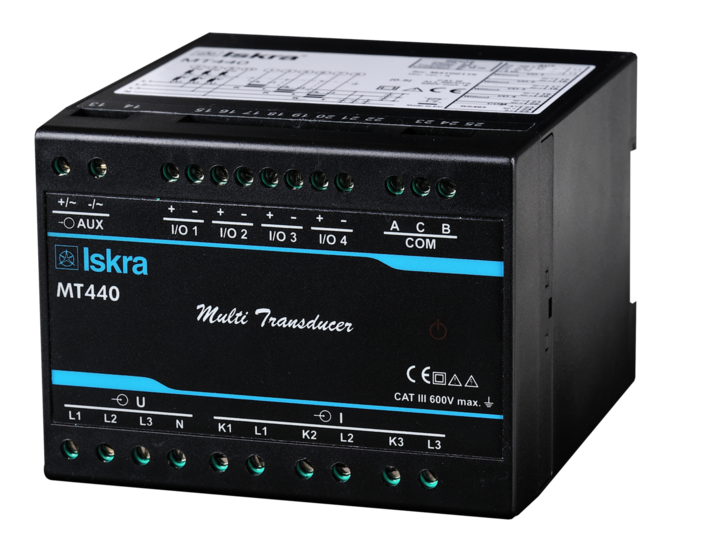 Measuring transducers MT 4xx
Measurements of instantaneous values of more than 50 quantities (V, A, kW, kVA, kvar, kWh, kvarh, PF, Hz, MD thermal, THD, etc)
Power accuracy class 0.5
16 adjustable alarms
Input frequency: 50/60 Hz, 400 Hz
Serial communication (RS232 or RS485 up to 115,200 bit/s) and USB 2.0
MODBUS RTU communication protocol
Up to 4 I/O (analogue outputs, alarm outputs, pulse outputs, general purpose relay output, general purpose solid-state output)
Single wide auxiliary power supply range 24 –300 V DC, 40 – 276 V AC
Automatic range of current and voltage (max. 12.5 A and 600 VL-N)
Housing for DIN rail mounting
User-friendly setting software, MiQen

MT 440 - programmable multifunctional transducer
MT 418 - programmable current transducer
MT 416 - programmable voltage transducer
MT 408 - current self powered measuring transducer
MT 406 - voltage self powered measuring transducer
{{ errors[0] }} {{ titlePgs }} {{ productGroup.name[context.language] }} {{ productGroup.description[context.language] }} {{ titlePg }} {{ backLabel }} {{ product.id }} {{ product.description[context.language] }} {{ error }} {{ id }} {{ reloadLabel }} {{ prop.name[context.language] }} {{ op.code + optionName(op) }} {{ orderCodeLabel }} {{ orderCode }} {{ quantityLabel[context.language] }} {{ sendRequestLabel }} {{ notSelectedErrorLabel + " (" + prop.name[context.language] + ")" }} {{ toLongErrorLabel + " " + (prop.options[0].code).match(/d+/g).map(Number) + " (" + prop.name[context.language] + ")" }} var logicModule = function () { function getTruth(proposition, truths) { var propositionClone = JSON.parse(JSON.stringify(proposition)); var stmnt = propositionClone.stmnt; for (var i = 0; i < stmnt.length; i++) { if (stmnt[i].hasOwnProperty('comparator')) { stmnt[i] = resolveNode(stmnt[i], truths); } if (stmnt[i].hasOwnProperty('stmnt')) { stmnt[i] = getTruth(stmnt[i], truths); } } stmnt = decide(stmnt, 'not'); stmnt = decide(stmnt, 'and'); stmnt = decide(stmnt, 'or'); for (var i = 0; i < stmnt.length; i++) { if (stmnt[i] == true) { return true; } } return false; function resolveNode(node, truths) { for (var i = 0; i < truths.length; i++) { if (node.property == truths[i].property) { var x = checkMatch(node.options, truths[i].option); if (node.comparator === 'equals') { if (x) return true; } if (node.comparator === 'notEquals') { if (!x) return true; } } } return false; } function checkMatch(options, truth) { for (var i = 0; i < options.length; i++) { if (options[i] == truth) { return true; } } return false; } function decide(stmnt, functor) { if (functor === 'or' || functor === 'and') { var newStmnt; while (stmnt != null) { newStmnt = stmnt; stmnt = getResult(stmnt, functor); } return newStmnt; } if (functor === 'not') { for (var i = 0; i < stmnt.length; i++) { if (stmnt[i] === 'not') { stmnt[i + 1] = !stmnt[i + 1]; stmnt.splice(i, 1); } } return stmnt; } } function getResult(stmnt, functor) { for (var i = 0; i < stmnt.length; i++) { if (stmnt[i] === functor) { if (functor === 'and') { var result = stmnt[i - 1] && stmnt[i + 1]; } if (functor === 'or') { var result = stmnt[i - 1] || stmnt[i + 1]; } var arr1 = chopArr(stmnt, 0, i - 2); var arr2 = chopArr(stmnt, i + 2, stmnt.length - 1); stmnt = arr1.push(result); stmnt = arr1.concat(arr2); return stmnt; } } return null; } function chopArr(array, startIndex, endIndex) { var arr = []; for (var i = startIndex; i < endIndex + 1; i++) { arr.push(array[i]); } return arr; } } return { getTruth: getTruth } } if (!String.prototype.startsWith) { String.prototype.startsWith = function (searchString, position) { position = position || 0; return this.indexOf(searchString, position) === position; }; } var context = { url: document.getElementsByClassName("productItemTittle")[0].innerHTML, language: document.documentElement.lang, dataPath: 'https://' + location.hostname + '/f/konfigurator/', // url: 'buzzWord', Andrej 08.08.2018 // language: 'en', Andrej 08.08.2018 // dataPath: 'konfigurator/' Andrej 08.08.2018 } var dm = (function (context) { var context = context; var storedProducts = []; var loadData = function (url, target, callback) { if (target === "productGroups") { url = context.dataPath + 'data/ProduktneSkupine.txt' } else if (target === "internetGroups") { url = context.dataPath + 'data/InternetneSkupine.txt' } else if (target === "labels") { url = context.dataPath + 'data/Napisi.txt' } else { url = context.dataPath + 'data/' + url + '.txt' } $.ajax({ url: url, method: 'GET', success: function (data) { callback(JSON.parse(data)); }, error: function () { callback(); } }); } var storeProduct = function (product) { var alreadyStored = false; for (let i = 0; i < storedProducts.length; i++) { if (product.id === storedProducts[i].id) { storedProducts[i] = product; alreadyStored = true; } } if (!alreadyStored) { storedProducts.push(product); } if (storedProducts.length > 10) { storedProducts.splice(0, 1); } } var getStoredProduct = function (id) { for (let i = 0; i < storedProducts.length; i++) { if (id === storedProducts[i].id) { return storedProducts[i]; } } return false; } var deleteStoredProduct = function (id) { for (let i = 0; i < storedProducts.length; i++) { if (id === storedProducts[i].id) { storedProducts.splice(i, 1); } } } return { loadData: loadData, storeProduct: storeProduct, getStoredProduct: getStoredProduct, deleteStoredProduct: deleteStoredProduct } }(context)); var lm = new logicModule(); var pgs = new Vue({ el: '#productGroupsDiv', data: { productGroups: [], errors: [], canNotLoad: { en: "Configurator not avialable", sl: "Konfigurator ni na voljo" }, titlePgs: '', context: context, active: false, }, methods: { setData: function (loaded) { try { if (loaded === undefined || loaded.length === 0) { this.active = true; this.errors.push(this.canNotLoad[context.language]); } else { for (let i = 0; i < loaded.length; i++) { loaded[i].active = false; for (let ii = 0; ii < loaded[i].products.length; ii++) { loaded[i].products[ii].active = false; loaded[i].products[ii].collapsed = false; } } this.productGroups = loaded; if (loaded.length === 1) { this.active = false; this.pgButton(this.productGroups[0]); } else { this.active = true; } } } catch (error) { this.abort(); } }, invokeChild: function (data) { try { pg.activate(false); pg.clearData(); pr.activate(false); pr.clearData(); if (data === undefined) { this.errors.push() } else { this.animate(data); pg.setData(data); pg.activate(true); } } catch (error) { this.abort(); } }, pgButton: function (productGroup) { try { this.invokeChild(productGroup); } catch (error) { this.abort(); } }, animate: function (productGroup) { for (let i = 0; i < this.productGroups.length; i++) { this.productGroups[i].active = false; } productGroup.active = true; }, abort: function () { pg.abort = true; pg.clearData(); pr.abort = true; pr.clearData(); try { this.errors.push(this.canNotLoad[context.language]); } catch (error) { this.errors.push(this.canNotLoad.sl) } } }, beforeMount: function () { var self = this; var mainPage = ""; dm.loadData(null, 'labels', function (data) { try { mainPage = data.mainPage[context.language]; pg.titlePg = data.titlePg[context.language]; pg.backLabel = data.backLabel[context.language]; pg.canNotLoadProduct = data.canNotLoadProduct[context.language]; pr.sendRequestLabel = data.sendRequest[context.language]; pr.orderCodeLabel = data.orderCode[context.language]; pr.notSelectedErrorLabel = data.notSelectedError[context.language]; pr.toLongErrorLabel = data.toLongError[context.language]; pr.reloadLabel = data.reload[context.language]; if (data.quantity != undefined) pr.quantityLabel = data.quantity; } catch (error) { self.abort(); } dm.loadData(null, 'productGroups', function (data) { try { if (data === undefined) { self.setData(); return } } catch (error) { self.abort(); } if (context.url !== "buzzWord" && context.url !== mainPage) { dm.loadData(null, 'internetGroups', function (internetGroups) { try { var internetGroup = {}; var filteredPgs = []; if (internetGroups === undefined) { self.setData(); return; } for (let i = 0; i < internetGroups.length; i++) { if (internetGroups[i].id[context.language] === context.url) { internetGroup = internetGroups[i]; } } if (internetGroup.productGroups === {} || internetGroup.productGroups === null || internetGroup.productGroups === undefined) { self.setData(); return } for (let i = 0; i < internetGroup.productGroups.length; i++) { for (let pgs = 0; pgs < data.length; pgs++) { if (data[pgs].id === internetGroup.productGroups[i]) { filteredPgs.push(data[pgs]); } } } self.setData(filteredPgs); } catch (error) { self.abort(); } }); } else { self.setData(data); } }); }); } }); var pg = new Vue({ el: '#productGroupDiv', data: { products: [], errors: [], titlePg: '', backLabel: '', canNotLoadProduct: '', context: context, active: false, abort: false, collapsed: false, }, methods: { setData: function (productGroup) { try { this.products = productGroup.products; } catch (error) { pgs.abort(); } }, activate: function (bool) { this.active = bool; this.collapsed = false; }, clearData: function () { for (let i = 0; i < this.products.length; i++) { this.products[i].active = false; this.products[i].collapsed = false; } this.collapsed = false; this.products = {}; this.errors = []; }, invokeChild: function (id) { try { this.errors = []; pr.activate(false); pr.clearData(); var storedPr = dm.getStoredProduct(id); if (storedPr) { pr.setData(storedPr, "stored"); pr.activate(true); } else { dm.loadData(id, 'product', function (loaded) { if (loaded === undefined) { pg.errors.push(pg.canNotLoadProduct); } else { loaded.changed = false; for (let i = 0; i < loaded.properties.length; i++) { loaded.properties[i].error = {}; loaded.properties[i].error.toLong = false; loaded.properties[i].error.notSelected = false; loaded.properties[i].value = ''; loaded.properties[i].color = {}; for (let o = 0; o < loaded.properties[i].options.length; o++) { loaded.properties[i].options[o].disabled = false; loaded.properties[i].options[o].color = {}; } } pr.setData(loaded, "loaded"); pr.activate(true); } }); } } catch (error) { pgs.abort();} }, pButton: function (product) { this.animate(product); this.collapsed = true; this.collapse(); this.invokeChild(product.id); }, animate: function (product) { for (let i = 0; i < this.products.length; i++) { this.products[i].active = false; } product.active = true; }, collapse: function () { for (let i = 0; i < this.products.length; i++) { if (this.collapsed) { if (!this.products[i].active) this.products[i].collapsed = true } else { this.products[i].collapsed = false; } } }, backButton: function () { try { this.errors = []; pr.activate(false); pr.clearData(); this.collapsed = false; this.collapse(); } catch (error) { pgs.abort(); } } }, }); var pr = new Vue({ el: '#productDiv', data: { properties: [], id: '', errors: [], sendRequestLabel: '', orderCodeLabel: '', notSelectedErrorLabel: '', toLongErrorLabel: '', reloadLabel: '', quantityLabel: { en: 'Quantity', sl: 'Količina' }, orderCode: "", quantity: 1, context: context, active: false, abort: false, changes: false, }, methods: { setData: function (product, dataSource) { try { this.properties = product.properties; this.id = product.id; this.changes = product.changed; if (!product.changed) { this.configDefaultSettings(); } this.parseOrderCode(); } catch (error) { pgs.abort();} }, activate: function (bool) { this.active = bool; }, clearData: function () { if (this.changes) dm.storeProduct({ id: this.id, properties: this.properties, changed: true }); this.properties = []; this.id = []; this.orderCode = ""; this.changes = false; this.quantity = 1; }, reloadButton: function () { dm.deleteStoredProduct(this.id); this.changes = false; pg.invokeChild(this.id); }, configDefaultSettings: function () { for (let i = 0; i < this.properties.length; i++) { this.setDefault(this.properties[i]); } this.enforceConstraints(0); }, setDefault: function (property) { try { var defaultSetBool = false; for (let i = 0; i < property.options.length; i++) { if (property.options[i].default === 'TRUE' && !property.options[i].disabled) { property.value = property.options[i].code; defaultSetBool = true; } } var notDisabled = []; for (let i = 0; i < property.options.length; i++) { if (!property.options[i].disabled) { notDisabled.push(property.options[i]); } } if (notDisabled.length === 1) { property.value = notDisabled[0].code; defaultSetBool = true; } if (!defaultSetBool) { property.value = ""; } if (this.isCustomStringProperty(property)) { property.value = ""; } } catch (error) { pgs.abort();} }, setSelected: function () { for (let i = 0; i < this.properties.length; i++) { if (this.properties[i].value !== "") { this.properties[i].error.notSelected = false; this.properties[i].color = {} } if (this.isCustomStringProperty(this.properties[i]) && this.properties[i].options[0].disabled) { this.properties[i].error.notSelected = false; this.properties[i].color = {} } } this.changes = true; this.enforceConstraints(0); this.parseOrderCode(); }, isCustomStringProperty: function (property) { try { if (property.options[0].code.startsWith("string") || property.options[0].code.startsWith("String")) { return true } return false; } catch (error) { pgs.abort();} }, enforceConstraints: function (depth) { try { if (depth > 10) { throw Error(); } var truths = []; for (let i = 0; i < this.properties.length; i++) { truths.push({ property: this.properties[i].id, option: this.properties[i].value, }); } var enforcedBool = false; for (let p = 0; p < this.properties.length; p++) { var seledtedWasDisabledBool = false; var prop = this.properties[p]; for (let o = 0; o < prop.options.length; o++) { if (this.isCustomStringProperty(prop) && prop.options[0].disabled && lm.getTruth(prop.options[o].constraints, truths)) { } else if (prop.options[o].constraints !== '' && lm.getTruth(prop.options[o].constraints, truths)) { prop.options[o].disabled = true; prop.options[o].color = { color: '#b3b3b3' } if (prop.value === prop.options[o].code) { seledtedWasDisabledBool = true; this.animateAutoChange(prop); enforcedBool = true; } if (this.isCustomStringProperty(prop)) { prop.value = ""; prop.error.notSelected = false; prop.color = {} this.animateAutoChange(prop); } } else { prop.options[o].disabled = false; prop.options[o].color = {} } } if (seledtedWasDisabledBool) { this.setDefault(prop); } if (this.isCustomStringProperty(prop)) { var limit = ""; for (let i = 0; i < prop.options[0].code.length; i++) { if (!isNaN(prop.options[0].code.charAt(i))) { limit += prop.options[0].code.charAt(i); } } limit = parseInt(limit); if (prop.value.length > limit) { prop.error.toLong = true; prop.color = { color: '#ffcc99' } } else { prop.error.toLong = false; if (!prop.error.notSelected) prop.color = {} } } } if (enforcedBool) this.enforceConstraints(depth + 1); } catch (error) { pgs.abort();} }, parseOrderCode: function () { var orderString = ""; for (let i = 0; i < this.properties.length; i++) { orderString += this.properties[i].value; if (this.properties[i].value === "") { orderString += "-"; } if (i !== this.properties.length - 1) { orderString += " "; } } this.orderCode = orderString; }, animateAutoChange: function (prop) { try { if (document.getElementById('row' + prop.id)) { var element = document.getElementById('row' + prop.id); element.style = "background-color: #ffcc99" setTimeout(function () { element.style = "background-color: white" }, 150) } } catch (error) { pgs.abort();} }, getOptionName: function (prop) { if (prop.value === '') return ' '; if (this.isCustomStringProperty(prop)) { return ' '; } for (let i = 0; i < prop.options.length; i++) { if (prop.options[i].code === prop.value) return prop.options[i].name[context.language]; } }, optionName: function(option){ if(option.name[context.language] === ''){ return ''; } return ': ' + option.name[context.language]; }, sendRequest: function () { var valid = true; for (let i = 0; i < this.properties.length; i++) { if (this.properties[i].value === "" && this.properties[i].required !== 'FALSE') { this.properties[i].error.notSelected = true; this.properties[i].color = { color: '#ffcc99' } if (this.isCustomStringProperty(this.properties[i])) { if (this.properties[i].options[0].disabled) { this.properties[i].error.notSelected = false; this.properties[i].color = {} } } } if (this.properties[i].error.notSelected || this.properties[i].error.toLong) { valid = false; } } if (valid) { try { var orderMessage = ""; orderMessage += this.quantityLabel[context.language] + ": " + this.quantity + " "; orderMessage += this.orderCode + " "; for (let i = 1; i < this.properties.length; i++) { if (this.isCustomStringProperty(this.properties[i])) { orderMessage += this.properties[i].name[context.language] + ": " + this.properties[i].value + " "; } else { orderMessage += this.properties[i].name[context.language] + ": " + this.getOptionName(this.properties[i]) + " "; } } document.getElementById("orderCode").value = orderMessage; document.getElementById("configuratorSendOrder").click(); } catch (error) { pgs.abort();} } } } });