SparkWave SDR GE2
SparkWave SDR GE2 is a multipurpose cost effective point to point microwave radio. This easy-to-use, split mount, microwave link is designed for high capacity Gigabit Ethernet applications.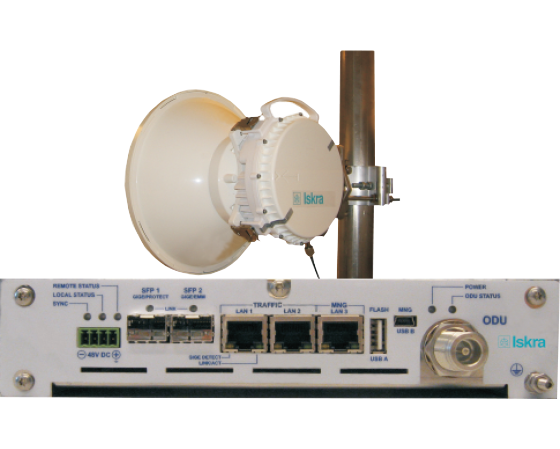 SparkWave SDR GE2
Split-mount or optional all-indoor architecture.
Licensed frequency bands: 5-42 GHz
Non licensed frequency bands: 17 and 24 GHz
Modulation hitless adaptive or fixed up to QAM256
Bandwidth up to 56MHz
Spectral analyzer function
Ethernet aggregation
Bitrates up to 730 Mb/s (2+0)
up to 4096 VLANs
MAC table - up to 8192 addresses
Maximum Frame Size - 10K
Protective configurations 1+0, 2+0, 1+1 (FD/SD/HSB)
Synchronization IEEE 1588
Data encryption AES-128
Latency below 200μs
QoS: Source Port, 802.1p, IPv4 TOS/DSCP, IPv6 TC, VLAN ID
SFP for GE interface optical/electrical
Up to 4x16E1 interfaces using external 16E1 box
Indoor unit 1U high and ½ U width
WEB based EMS

Backbone networks for packet/TDM service providers
Cellular/CDMA/LTE/WiMAX backhaul networks
Fixed wireless networks
Enterprise/corporate campus/business park LAN extension
Replace carrier leased lines, eliminate expensive recurring costs
Wireless IP/Ethernet Video Streaming/Surveillance
Access networks for Enterprises
Multi-service private wireless networks for energy, traffic, utilities operators
Extension of the ISP access network area (i.e. for the triple-play)
Temporary broadband connection for major outdoor events or in case of natural disasters

Up to 3 independent cooper GEth channels and two SFP slots for additional port extension.
Operating frequency ranges from 5 to 42 GHz. 17 and 24 GHz no licensed bands. Modulation up to QAM256 and bandwidth up to 56 MHz can assure effective, flexible and scalable connections even for very long distances and/or for very high capacities.
ACM (Adaptive Coding & Modulation) in combination with QoS (Quality of Service) guarantees transmission of real-time critical services without latency variation, even in case of bad weather conditions.
Aggregation possibility of native Ethernet guaranties both redundancy and higher capacity in 2+0 mode, reaching 730 Mbit/s full duplex.
Optionally additional native E1 or ASI can be configured. Up to 4x16E1 can be carried out using external termination box.