Single-pole Lightning current and surge arresters - Class I / (B+C)
ISPRO BS(R) 50, ISPRO BS(R) 25, ISPRO-G BS
Serija ISPRO BS(R) in ISPRO-G BS spada v razred nizko cenovnih prenapetostnih zaščit za zaščito pred delnimi direktnimi in indirektnimi razelektritvami je namenjena za zaščito v conah 0A – 1 v skladu s standardom IEC 62305.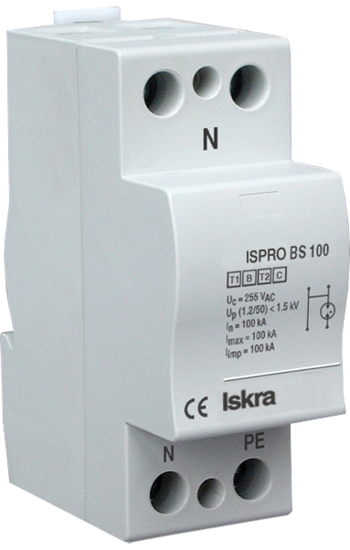 Single-pole Lightning current and surge arresters - Class I / (B+C)
The ISPRO BS(R) series consists of two separate, high performance dual MOV blocks, each with a separate disconnection device.
The ISPRO-G BS series consists of an encapsulated air gap device (GDT), and is used as a galvanic separation between the N-PE conductors in a 1 + 1 or 3 + 1 power distribution system (TT networks).

Class I / (B+C)
Surge discharge ratings Iimp: to 100 kA (10/350)
Housing: compact design