Mini contactors
Contactors are electrically remote controlled switches used for switching a power circuit. Contactors are mainly used for switching motors, building automation systems and applications including use in machines.
Looking for a highly reliable and adjustable product? It can be adapted to the needs of users.
Our Mini contactors are distinguished by
high contact reliability at low voltages,
high electrical and mechanical endurance,
high switching capacity and a wide range of possible control voltages,
a wide variety of snapon auxiliary switch blocks and accessories enable hassle free installation,
an Open and funnelshaped connection terminals which enable fast and simple connection
Why Iskra? With years of expertise and innovation we can guarantee you a top quality products with high functionalities at a great price. Customer experiences prove that our switches operate 20% longer than other switches. Switches, made in Slovenia-Europe, are guaranteeing maximum supply reliability, personal safety and preservation of the environment.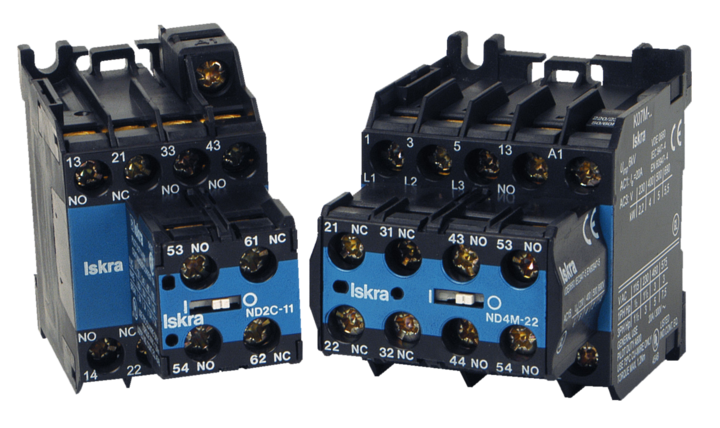 Mini contactors
Approvals: UL, CSA, EAC
Versions with 3 and 4 main contacts (sp4)
AC or DC coils with low consumption
High contact reliability at low voltage
Degree of protection IP20
Wide range of control voltages is avalible
Wide variety of snap-on auxilary switch blocks and accessories
Mini contactors are used for switching electric motors and other resistive, inductive and capacitive loads, such as:
All kinds of motors
Building automation systems
Applications include use in machines