Installation contactors with manual operation up to 25 A (IK-R)
Installation contactors are the most flexible switching devices for use in all types of applications. Those are applied for automatic control of electric devices in installations of dwellings, offices, shops and hospitals.
Looking for highly reliable and effective product? Our Installation contactors excel in silent operation and are distinguished by low coil consumption. In electronic system they provide reliable, safe and efficient management of electrical equipment. It can be adapted to the needs of users.
Why Iskra? With years of expertise and innovation we can guarantee you a top quality products with high functionalities at a great price. Customer experiences prove that our switches operate 20% longer than other switches. Switches, made in Slovenia-Europe, are guaranteeing maximum supply reliability, personal safety and preservation of the environment.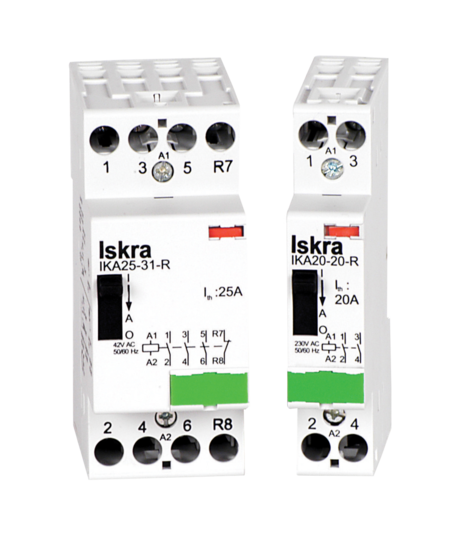 Installation contactors with manual operation up to 32 A (IK-R)
Installation contactors providing not only basic functions but also manual handling.
Description of individual positions of handle:
A: The contactor functions as installation contactors without handle.
O: The coil is permanently switched off.
I: Shifting the handle from A to I the make contacts are closed, and break contacts are open. When control voltage is applied, the handle is automatically set to A.
REMOTE SWITCHING AND MANUAL OPERATION
Switching of lighting, electric heating, heat pumps, air-conditions, electrical eguipment, single and three-phase motors …
CONTROL
AC coil + manual operation
AC/DC coil with rectifier and varistor for overvoltage protection + manual operation
INSTALLATION CONTACTORS OFFER
Installation contactors IKA-R with AC coil (rated currents AC-1: 20 A, 25 A, 32 A)
Installation contactors IKD-R with AC/DC coil (rated currents AC-1: 20 A, 25 A, 32 A)
Auxiliary switches IKN

Installation contactors with manual operation are mainly used for switching on the users (e.g. switching on the users at unfavourable tariff).
Installation contactors are electromagnetic switching devices with manual operation for switching of all kind of electric loads. They have one position of rest, capable of making, carrying and breaking currents under normal circuit conditions including operating overload conditions.