iMC 784 Advanced Power Quality Analyzer
Power Quality Analyzer - iMC784 is a perfect solution for permanent Power Quality monitoring. Its purpose of use is:
This Class A certified PQ meter is intended for permanent Power Quality monitoring and detailed event analysis on all voltage levels
Its advanced operation is usefull for network specialists to help finding problems in a network, forecasts potential problems and for future network planning
Up-to-date communication support and standard data formats enable fast integration into network or industry management systems
In EU countries it is mandatory for utility companies to regularly report about Power Quality. Industry is also highly dependent on good Power Quality and therefore also interested in such monitoring. For that reason Power Quality monitoring has been standardised. Proper methodes are defined with IEC 61000-4-30 Ed.3 standard and sub-standards for harmonic analysis and flickers.
Free software tool Miqen included. Miqen is a user –friendly toll for complete monitoring of the measuring instruments.
Why Iskra? With years of expertise and innovation we can guarantee you a top quality products with high functionalities at a great price. Measuring instruments, made in Slovenia – Europe, are guaranteeing accuracy and durability.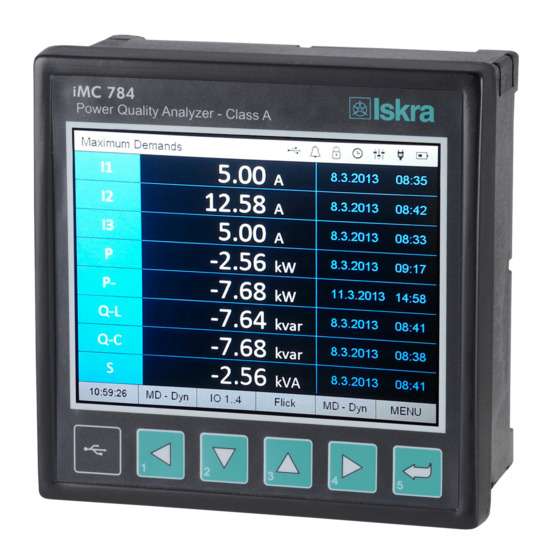 iMC 784 Advanced Power Quality Analyzer
Power Quality analysis according to EN50160 with automatic PQ report generation
High accuracy (0.1%) as required within EN61000-4-30 Ed. 3 Class A
User friendly setting and analysis software MiQen
Waveform and transient recorder with programmable sampling time (%mygt% 600 samples / period), pre-trigger and post-trigger time
Internal memory (up to 8GB) for recording all measured parameters, disturbances, waveforms, alarms, PQ reports and time-stamped
Details about anomalies.
Automatic measuring range up to 1000 VRMS, 12.5 A direct connection
Measurement of 4 Voltages and 4 Currents with 32 kHz sampling time
Serial, USB and Ethernet communication with support for MODBUS, DNP3 and IEC61850 (optional) protocol.
Up to 20 Input and Output modules for control purposes and monitoring of other physical parameters (temp., wind speed, pressure…)
Standardized PQDIF and COMTRADE format support for storing recorder data
Comprehensive 0.2S energy measurement feature (4 quadrant energy measurement, 8 counters, up to 4 tariffs, tariff clock, pulse outputs...)
Available with standard 128 x 64 pixel display or 5,7" color TFT display (option)
Wide frequency measurement range 16 – 400 Hz

The MC784 can be used in power utilities (for evaluation against standards) as well as for industry purposes (monitoring supplied power quality). It performs measurements in compliance with regulatory requested standard EN 61000-4-30 and evaluates recorded parameters for analysis according to parameters defined in European power quality standard EN50160.
The device enables storage of a wide variety of highly detailed oscillography data in 8GB of internal flash memory based on a sophisticated trigger settings mechanism. Data can be stored in standardized PQDIF (IEEE 1159-3) and COMTRADE (IEEE C37.111) file formats which can easily be exchanged with third party PQ analysis SW systems.
Apart from this, the MC784 also supports monitoring and recording of the most commonly used auxiliary sensor analogue or digital I/O data (e.g. temperature, pressure, gas/water/heat consumption, intrusion detection etc.). These readings can also be used for alarming and control purposes. The most extensive benefits are achieved when MC784 is used as a part of an energy monitoring system comprising of strategically positioned meters connected to the MiSMART system software solution.
{{ errors[0] }} {{ titlePgs }} {{ productGroup.name[context.language] }} {{ productGroup.description[context.language] }} {{ titlePg }} {{ backLabel }} {{ product.id }} {{ product.description[context.language] }} {{ error }} {{ id }} {{ reloadLabel }} {{ prop.name[context.language] }} {{ op.code + optionName(op) }} {{ orderCodeLabel }} {{ orderCode }} {{ quantityLabel[context.language] }} {{ sendRequestLabel }} {{ notSelectedErrorLabel + " (" + prop.name[context.language] + ")" }} {{ toLongErrorLabel + " " + (prop.options[0].code).match(/d+/g).map(Number) + " (" + prop.name[context.language] + ")" }} var logicModule = function () { function getTruth(proposition, truths) { var propositionClone = JSON.parse(JSON.stringify(proposition)); var stmnt = propositionClone.stmnt; for (var i = 0; i < stmnt.length; i++) { if (stmnt[i].hasOwnProperty('comparator')) { stmnt[i] = resolveNode(stmnt[i], truths); } if (stmnt[i].hasOwnProperty('stmnt')) { stmnt[i] = getTruth(stmnt[i], truths); } } stmnt = decide(stmnt, 'not'); stmnt = decide(stmnt, 'and'); stmnt = decide(stmnt, 'or'); for (var i = 0; i < stmnt.length; i++) { if (stmnt[i] == true) { return true; } } return false; function resolveNode(node, truths) { for (var i = 0; i < truths.length; i++) { if (node.property == truths[i].property) { var x = checkMatch(node.options, truths[i].option); if (node.comparator === 'equals') { if (x) return true; } if (node.comparator === 'notEquals') { if (!x) return true; } } } return false; } function checkMatch(options, truth) { for (var i = 0; i < options.length; i++) { if (options[i] == truth) { return true; } } return false; } function decide(stmnt, functor) { if (functor === 'or' || functor === 'and') { var newStmnt; while (stmnt != null) { newStmnt = stmnt; stmnt = getResult(stmnt, functor); } return newStmnt; } if (functor === 'not') { for (var i = 0; i < stmnt.length; i++) { if (stmnt[i] === 'not') { stmnt[i + 1] = !stmnt[i + 1]; stmnt.splice(i, 1); } } return stmnt; } } function getResult(stmnt, functor) { for (var i = 0; i < stmnt.length; i++) { if (stmnt[i] === functor) { if (functor === 'and') { var result = stmnt[i - 1] && stmnt[i + 1]; } if (functor === 'or') { var result = stmnt[i - 1] || stmnt[i + 1]; } var arr1 = chopArr(stmnt, 0, i - 2); var arr2 = chopArr(stmnt, i + 2, stmnt.length - 1); stmnt = arr1.push(result); stmnt = arr1.concat(arr2); return stmnt; } } return null; } function chopArr(array, startIndex, endIndex) { var arr = []; for (var i = startIndex; i < endIndex + 1; i++) { arr.push(array[i]); } return arr; } } return { getTruth: getTruth } } if (!String.prototype.startsWith) { String.prototype.startsWith = function (searchString, position) { position = position || 0; return this.indexOf(searchString, position) === position; }; } var context = { url: document.getElementsByClassName("productItemTittle")[0].innerHTML, language: document.documentElement.lang, dataPath: 'https://' + location.hostname + '/f/konfigurator/', // url: 'buzzWord', Andrej 08.08.2018 // language: 'en', Andrej 08.08.2018 // dataPath: 'konfigurator/' Andrej 08.08.2018 } var dm = (function (context) { var context = context; var storedProducts = []; var loadData = function (url, target, callback) { if (target === "productGroups") { url = context.dataPath + 'data/ProduktneSkupine.txt' } else if (target === "internetGroups") { url = context.dataPath + 'data/InternetneSkupine.txt' } else if (target === "labels") { url = context.dataPath + 'data/Napisi.txt' } else { url = context.dataPath + 'data/' + url + '.txt' } $.ajax({ url: url, method: 'GET', success: function (data) { callback(JSON.parse(data)); }, error: function () { callback(); } }); } var storeProduct = function (product) { var alreadyStored = false; for (let i = 0; i < storedProducts.length; i++) { if (product.id === storedProducts[i].id) { storedProducts[i] = product; alreadyStored = true; } } if (!alreadyStored) { storedProducts.push(product); } if (storedProducts.length > 10) { storedProducts.splice(0, 1); } } var getStoredProduct = function (id) { for (let i = 0; i < storedProducts.length; i++) { if (id === storedProducts[i].id) { return storedProducts[i]; } } return false; } var deleteStoredProduct = function (id) { for (let i = 0; i < storedProducts.length; i++) { if (id === storedProducts[i].id) { storedProducts.splice(i, 1); } } } return { loadData: loadData, storeProduct: storeProduct, getStoredProduct: getStoredProduct, deleteStoredProduct: deleteStoredProduct } }(context)); var lm = new logicModule(); var pgs = new Vue({ el: '#productGroupsDiv', data: { productGroups: [], errors: [], canNotLoad: { en: "Configurator not avialable", sl: "Konfigurator ni na voljo" }, titlePgs: '', context: context, active: false, }, methods: { setData: function (loaded) { try { if (loaded === undefined || loaded.length === 0) { this.active = true; this.errors.push(this.canNotLoad[context.language]); } else { for (let i = 0; i < loaded.length; i++) { loaded[i].active = false; for (let ii = 0; ii < loaded[i].products.length; ii++) { loaded[i].products[ii].active = false; loaded[i].products[ii].collapsed = false; } } this.productGroups = loaded; if (loaded.length === 1) { this.active = false; this.pgButton(this.productGroups[0]); } else { this.active = true; } } } catch (error) { this.abort(); } }, invokeChild: function (data) { try { pg.activate(false); pg.clearData(); pr.activate(false); pr.clearData(); if (data === undefined) { this.errors.push() } else { this.animate(data); pg.setData(data); pg.activate(true); } } catch (error) { this.abort(); } }, pgButton: function (productGroup) { try { this.invokeChild(productGroup); } catch (error) { this.abort(); } }, animate: function (productGroup) { for (let i = 0; i < this.productGroups.length; i++) { this.productGroups[i].active = false; } productGroup.active = true; }, abort: function () { pg.abort = true; pg.clearData(); pr.abort = true; pr.clearData(); try { this.errors.push(this.canNotLoad[context.language]); } catch (error) { this.errors.push(this.canNotLoad.sl) } } }, beforeMount: function () { var self = this; var mainPage = ""; dm.loadData(null, 'labels', function (data) { try { mainPage = data.mainPage[context.language]; pg.titlePg = data.titlePg[context.language]; pg.backLabel = data.backLabel[context.language]; pg.canNotLoadProduct = data.canNotLoadProduct[context.language]; pr.sendRequestLabel = data.sendRequest[context.language]; pr.orderCodeLabel = data.orderCode[context.language]; pr.notSelectedErrorLabel = data.notSelectedError[context.language]; pr.toLongErrorLabel = data.toLongError[context.language]; pr.reloadLabel = data.reload[context.language]; if (data.quantity != undefined) pr.quantityLabel = data.quantity; } catch (error) { self.abort(); } dm.loadData(null, 'productGroups', function (data) { try { if (data === undefined) { self.setData(); return } } catch (error) { self.abort(); } if (context.url !== "buzzWord" && context.url !== mainPage) { dm.loadData(null, 'internetGroups', function (internetGroups) { try { var internetGroup = {}; var filteredPgs = []; if (internetGroups === undefined) { self.setData(); return; } for (let i = 0; i < internetGroups.length; i++) { if (internetGroups[i].id[context.language] === context.url) { internetGroup = internetGroups[i]; } } if (internetGroup.productGroups === {} || internetGroup.productGroups === null || internetGroup.productGroups === undefined) { self.setData(); return } for (let i = 0; i < internetGroup.productGroups.length; i++) { for (let pgs = 0; pgs < data.length; pgs++) { if (data[pgs].id === internetGroup.productGroups[i]) { filteredPgs.push(data[pgs]); } } } self.setData(filteredPgs); } catch (error) { self.abort(); } }); } else { self.setData(data); } }); }); } }); var pg = new Vue({ el: '#productGroupDiv', data: { products: [], errors: [], titlePg: '', backLabel: '', canNotLoadProduct: '', context: context, active: false, abort: false, collapsed: false, }, methods: { setData: function (productGroup) { try { this.products = productGroup.products; } catch (error) { pgs.abort(); } }, activate: function (bool) { this.active = bool; this.collapsed = false; }, clearData: function () { for (let i = 0; i < this.products.length; i++) { this.products[i].active = false; this.products[i].collapsed = false; } this.collapsed = false; this.products = {}; this.errors = []; }, invokeChild: function (id) { try { this.errors = []; pr.activate(false); pr.clearData(); var storedPr = dm.getStoredProduct(id); if (storedPr) { pr.setData(storedPr, "stored"); pr.activate(true); } else { dm.loadData(id, 'product', function (loaded) { if (loaded === undefined) { pg.errors.push(pg.canNotLoadProduct); } else { loaded.changed = false; for (let i = 0; i < loaded.properties.length; i++) { loaded.properties[i].error = {}; loaded.properties[i].error.toLong = false; loaded.properties[i].error.notSelected = false; loaded.properties[i].value = ''; loaded.properties[i].color = {}; for (let o = 0; o < loaded.properties[i].options.length; o++) { loaded.properties[i].options[o].disabled = false; loaded.properties[i].options[o].color = {}; } } pr.setData(loaded, "loaded"); pr.activate(true); } }); } } catch (error) { pgs.abort();} }, pButton: function (product) { this.animate(product); this.collapsed = true; this.collapse(); this.invokeChild(product.id); }, animate: function (product) { for (let i = 0; i < this.products.length; i++) { this.products[i].active = false; } product.active = true; }, collapse: function () { for (let i = 0; i < this.products.length; i++) { if (this.collapsed) { if (!this.products[i].active) this.products[i].collapsed = true } else { this.products[i].collapsed = false; } } }, backButton: function () { try { this.errors = []; pr.activate(false); pr.clearData(); this.collapsed = false; this.collapse(); } catch (error) { pgs.abort(); } } }, }); var pr = new Vue({ el: '#productDiv', data: { properties: [], id: '', errors: [], sendRequestLabel: '', orderCodeLabel: '', notSelectedErrorLabel: '', toLongErrorLabel: '', reloadLabel: '', quantityLabel: { en: 'Quantity', sl: 'Količina' }, orderCode: "", quantity: 1, context: context, active: false, abort: false, changes: false, }, methods: { setData: function (product, dataSource) { try { this.properties = product.properties; this.id = product.id; this.changes = product.changed; if (!product.changed) { this.configDefaultSettings(); } this.parseOrderCode(); } catch (error) { pgs.abort();} }, activate: function (bool) { this.active = bool; }, clearData: function () { if (this.changes) dm.storeProduct({ id: this.id, properties: this.properties, changed: true }); this.properties = []; this.id = []; this.orderCode = ""; this.changes = false; this.quantity = 1; }, reloadButton: function () { dm.deleteStoredProduct(this.id); this.changes = false; pg.invokeChild(this.id); }, configDefaultSettings: function () { for (let i = 0; i < this.properties.length; i++) { this.setDefault(this.properties[i]); } this.enforceConstraints(0); }, setDefault: function (property) { try { var defaultSetBool = false; for (let i = 0; i < property.options.length; i++) { if (property.options[i].default === 'TRUE' && !property.options[i].disabled) { property.value = property.options[i].code; defaultSetBool = true; } } var notDisabled = []; for (let i = 0; i < property.options.length; i++) { if (!property.options[i].disabled) { notDisabled.push(property.options[i]); } } if (notDisabled.length === 1) { property.value = notDisabled[0].code; defaultSetBool = true; } if (!defaultSetBool) { property.value = ""; } if (this.isCustomStringProperty(property)) { property.value = ""; } } catch (error) { pgs.abort();} }, setSelected: function () { for (let i = 0; i < this.properties.length; i++) { if (this.properties[i].value !== "") { this.properties[i].error.notSelected = false; this.properties[i].color = {} } if (this.isCustomStringProperty(this.properties[i]) && this.properties[i].options[0].disabled) { this.properties[i].error.notSelected = false; this.properties[i].color = {} } } this.changes = true; this.enforceConstraints(0); this.parseOrderCode(); }, isCustomStringProperty: function (property) { try { if (property.options[0].code.startsWith("string") || property.options[0].code.startsWith("String")) { return true } return false; } catch (error) { pgs.abort();} }, enforceConstraints: function (depth) { try { if (depth > 10) { throw Error(); } var truths = []; for (let i = 0; i < this.properties.length; i++) { truths.push({ property: this.properties[i].id, option: this.properties[i].value, }); } var enforcedBool = false; for (let p = 0; p < this.properties.length; p++) { var seledtedWasDisabledBool = false; var prop = this.properties[p]; for (let o = 0; o < prop.options.length; o++) { if (this.isCustomStringProperty(prop) && prop.options[0].disabled && lm.getTruth(prop.options[o].constraints, truths)) { } else if (prop.options[o].constraints !== '' && lm.getTruth(prop.options[o].constraints, truths)) { prop.options[o].disabled = true; prop.options[o].color = { color: '#b3b3b3' } if (prop.value === prop.options[o].code) { seledtedWasDisabledBool = true; this.animateAutoChange(prop); enforcedBool = true; } if (this.isCustomStringProperty(prop)) { prop.value = ""; prop.error.notSelected = false; prop.color = {} this.animateAutoChange(prop); } } else { prop.options[o].disabled = false; prop.options[o].color = {} } } if (seledtedWasDisabledBool) { this.setDefault(prop); } if (this.isCustomStringProperty(prop)) { var limit = ""; for (let i = 0; i < prop.options[0].code.length; i++) { if (!isNaN(prop.options[0].code.charAt(i))) { limit += prop.options[0].code.charAt(i); } } limit = parseInt(limit); if (prop.value.length > limit) { prop.error.toLong = true; prop.color = { color: '#ffcc99' } } else { prop.error.toLong = false; if (!prop.error.notSelected) prop.color = {} } } } if (enforcedBool) this.enforceConstraints(depth + 1); } catch (error) { pgs.abort();} }, parseOrderCode: function () { var orderString = ""; for (let i = 0; i < this.properties.length; i++) { orderString += this.properties[i].value; if (this.properties[i].value === "") { orderString += "-"; } if (i !== this.properties.length - 1) { orderString += " "; } } this.orderCode = orderString; }, animateAutoChange: function (prop) { try { if (document.getElementById('row' + prop.id)) { var element = document.getElementById('row' + prop.id); element.style = "background-color: #ffcc99" setTimeout(function () { element.style = "background-color: white" }, 150) } } catch (error) { pgs.abort();} }, getOptionName: function (prop) { if (prop.value === '') return ' '; if (this.isCustomStringProperty(prop)) { return ' '; } for (let i = 0; i < prop.options.length; i++) { if (prop.options[i].code === prop.value) return prop.options[i].name[context.language]; } }, optionName: function(option){ if(option.name[context.language] === ''){ return ''; } return ': ' + option.name[context.language]; }, sendRequest: function () { var valid = true; for (let i = 0; i < this.properties.length; i++) { if (this.properties[i].value === "" && this.properties[i].required !== 'FALSE') { this.properties[i].error.notSelected = true; this.properties[i].color = { color: '#ffcc99' } if (this.isCustomStringProperty(this.properties[i])) { if (this.properties[i].options[0].disabled) { this.properties[i].error.notSelected = false; this.properties[i].color = {} } } } if (this.properties[i].error.notSelected || this.properties[i].error.toLong) { valid = false; } } if (valid) { try { var orderMessage = ""; orderMessage += this.quantityLabel[context.language] + ": " + this.quantity + " "; orderMessage += this.orderCode + " "; for (let i = 1; i < this.properties.length; i++) { if (this.isCustomStringProperty(this.properties[i])) { orderMessage += this.properties[i].name[context.language] + ": " + this.properties[i].value + " "; } else { orderMessage += this.properties[i].name[context.language] + ": " + this.getOptionName(this.properties[i]) + " "; } } document.getElementById("orderCode").value = orderMessage; document.getElementById("configuratorSendOrder").click(); } catch (error) { pgs.abort();} } } } });