Electric vehicle charging station

An electric vehicle charging station (EV) or charging point is a component that supplies electricity to the vehicle or recharges its storage battery. Charging times vary on unit speed and the vehicle. Inside the EV are top quality ISKRA products with high functionalities.
Currently we are not producing charging stations, we produce top components for the charging stations.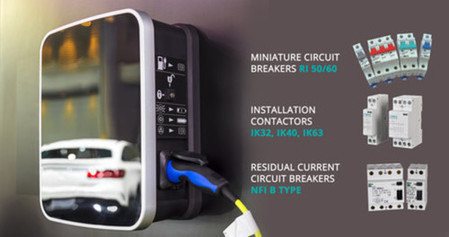 Energy Meters WM3X6
Energy meters WM3x6 and WM3M6 (MID certified) are intended for energy measurements in three-phase electrical power network and can be used in residential, industrial and utility applications.
Meter measures energy directly in 4-wire networks according to the principle of fast sampling of voltage and current signals. A built-in microprocessor measures active / reactive / apparent power and energy, current, voltage, frequency, power factor, power angle and frequency for each phase and total sum.
The microprocessor also controls LCD, LED, IR communication and optional extensions. Read more about Iskra's Energy Meters.

Miniature Circuit breakers RI50, RI60

Miniature circuit breakers of RI provide automatic circuit protection by protecting cables and lines against overload and short-circuit. They ensure the safety of electrical equipment and protect the equipment against aggressive temperature rise and destruction in the event of a short circuit. Our Miniature circuit breakers are VDE, EAC certified and marked. Read more about Iskra's Miniature Circuit breakers.
Installation contactors IK32, IK40, IK63

Installation contactors are the most flexible switching devices for use in all types of applications. They provide reliable, safe and efficient management for charging station and any other electrical equipment. Our Installation contactors excel in silent and are distinguished by low coil consumption. They can be adapted to user needs. CE, EAC approved. Read more about Iskra's Installation contactors.
Residual current circuit breakers NFI B type

Residual current circuit breaker provide the following protective measures: fault protection, protection against fire and additional protection in case of direct contact. This device prevents serious harm from an electric shock. VDE, CE, EAC approved. In our online store, you can find all available electro technical components for charging station.
Read more about our Smart Meters here