Polypropylene Film Capacitors (KNB 1580 RFI Class X2)
Class X capacitors are suitable for applications where there is no danger of electrical shock in case of breakdown. Metallized polypropylene film capacitors type KNB1580 Class X2 with rated voltage 305 VAC or 310VAC have a very stable capacitance over long operational life. They can withstand peak pulse voltage in service up to 2.5 kV.
The capacitor type KNB1580 includes all advantages of a CD version. They can be used in parallel or serial connection with the supply mains.
Read more about RFI capacitor for harsh environment conditions.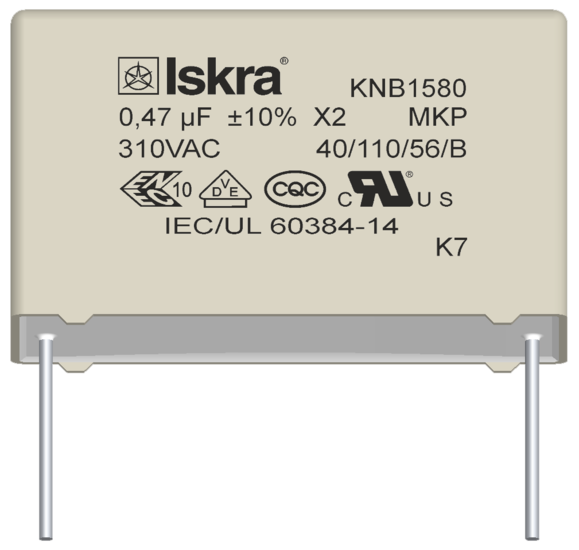 KNB1580 capacitor
KNB1580 – Tinned copper wire
KNB1582 – Insulated stranded wire 0.5 mm2. Terminal ends on request.
KNB1583 – Insulated solid wire Ø0.8mm

Typical applications are:
RFI suppression in audio and video devices
chargers
measurement instruments
electrical hand tools
electrical home appliances and machines
capacitive divider power supplies in power meter
-emergency lighting
-thermostat

Construction: polypropylene film, metallized
Rated voltage: 305 V AC, 310 V AC
Capacitance tolerance: ± 20 % for C ≤ 0.1 µF, ±10 % for C %mygt% 0.1 µF
Climate category: 40/110/56 acc. to IEC 60068-1
Passive flammability: B acc. to IEC 60384-14
Temperature range: -40° to +110°C
Test voltage: 2200 V DC, 1s for C ≤ 1 µF; 1900 V DC, 1s for 1 µF %mylt% C ≤ 2.2 µF; 1600 V DC, 2s for C %mygt% 2.2 µF
Max. pulse rise time at 438 VDC tested according to IEC 60384-14:
550V/μs for PCM = 7.5mm
500V/μs for PCM = 10mm
400V/μs for PCM = 15mm and C ≤ 0.022 µF
250V/μs for PCM = 15mm and C %mygt% 0.022 µF
150V/μs for PCM = 22.5mm
100V/μs for PCM = 27.5mm
100V/μs for PCM = 37.5mm
Dissipation factor: 0.001 max. at 1 kHz
Soldering: IEC 60068-2-20, max. 2 s
Resistance to soldering heat: IEC 60068-2-20, 260°C ±5°C, 10 s ±1 s
Self inductance: approx. 10nH/cm of capacitor length and terminals
Complies to: IEC 60384-14, UL 60384-14, CSA 60384-14
Halogen free (HF) version on request