Portable Electric Meter MI 7065
Portable multimeter 7056 is especially convenient for repair shops, electric, radio, electronic professions and field work.
This multimeter excel with
a rubber border which increase mechanical resistance.
It's ratings are protected against overloads when the meters are connected to 250 V.
It has zero middle scale
Why Iskra? With years of expertise and innovation we can guarantee you a top quality products with high functionalities at a great price. Measuring instruments, made in Slovenia – Europe, are guaranteeing accuracy and durability.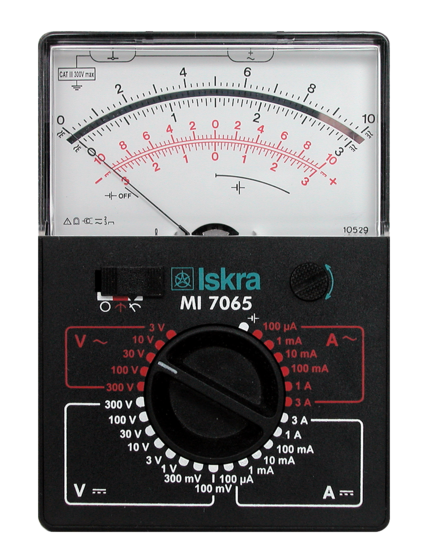 Portable Electric Meter MI 7065
Voltage: 100 mV.. 300V DC, 3 V.. 300 V AC
Current: 100 mA ...3A DC/AC
Characteristic resistance: 10 MΩ
Number of ratings: 25
Accuracy: 2 DC, 3 AC
Power supply: 1x9 V 6F22
Dimensions: 96x 132x 33 mm