Aquasolar zero emission
AQUASOLAR DESALINATION
Aquasolar works on the principle of passive exposure and concentration of sea water using only solar energy.
Aquasolar's key advantage - simple passive systems with the two lawer membrane and pressurised dome with high tech selected materials.
The south part of the dome is made from high permeable etef membrane, whitch leaves the sun radiation to the absorption membrane located on the bottom of the dome. On the top of the absorption membrane in the evaporation pool the sea water is heating with the sun energy and evaporate into the dome. evaporated water is free of salt.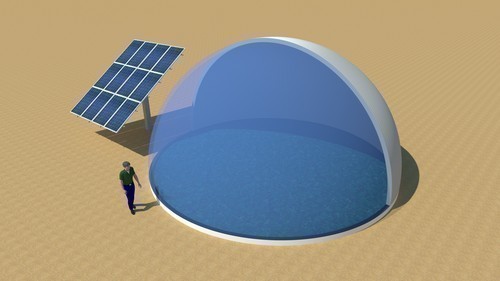 AQUASOLAR ZERO EMISSION
Since aquasolar in the process of production of drinking water does not apply chemicals, we can use brine and salt for food and cosmetic purposes.
HOW TO GET SAFE DRINKING WATER?
If we could ever competitively, at a cheap rate, get fresh water from salt water, that it would be in the long-range interests of humanity which would really dwarf any other scientific accomplishments."
John F. Kennedy, 1962