UNICOM Antenna P-42
Antenna P-42 UNICOM is used for the reception of mobile operators' signals. It covers wide frequency range from LTE 800 to LTE 2,6 GHz frequency bands.
A major feature of the antennas we produce is that they all have a built-in type »F« female connector for simple installation of the coaxial cable to the antenna.
Reliable and robust design for optimum performance and long life time. Easy to install.
Gain: 8-9,5 dB(i)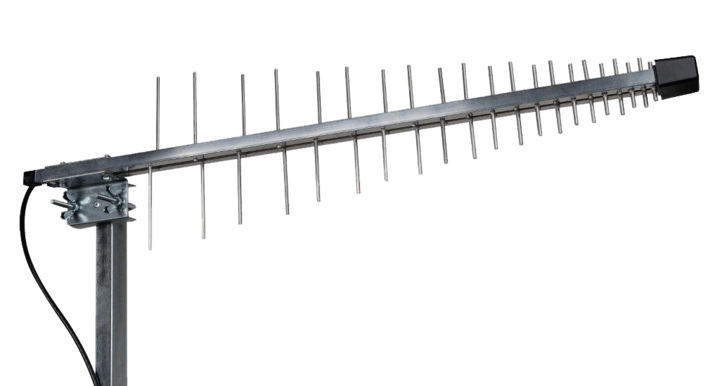 UNICOM antena P-42 UNICOM
P-42 UNICOM: Version for vertical polarization only and »FME« female connector on cable end.
P-42 UNICOM H/V: Version for horizontal or vertical polarization and »FME« female connector on cable end.
P-42 UNICOM SMA: Version for vertical polarization only and »SMA« male connector on cable end.
P-42 UNICOM SMA H/V: Version for horizontal or vertical polarization and »SMA« male
Freq. band (frequency): LTE 800 (790-862 MHz), GSM 900 (880-960 MHz), DCS 1800 (1710-1880 MHz), UMTS (3G) (1920-2170 MHz), Wi-Fi (WLAN) (2401-2495 MHz) and LTE 2,6 GHz (2,5-2,7 GHz)
No. of elements: 42
Gain: 8-9,5 dB(i)
Max. VSWR: %mylt% 1,5 : 1
F/B ratio: 23 dB
Beam width: Horizontal 64°; Vertical 56°
Impedance: 50 Ohm
Max. power connection: 50 Watt
Antenna length: 72 cm
Coaxial cable: impedance 50 Ohm, cable length 10 m