Portable Network Analyzer PNA 784
The PNA 784 network analyzer is used for analysis of electric voltage quality in compliance with the SIST EN 50160 standard. Records are stored in the internal memory. Moreover, more than 170,000 deviations of the measured quantities from the standard values are stored, which enables finding of eventual reasons for the problems on the network.
Optional limits and required quality in a monitored period can be defined for each monitored characteristic.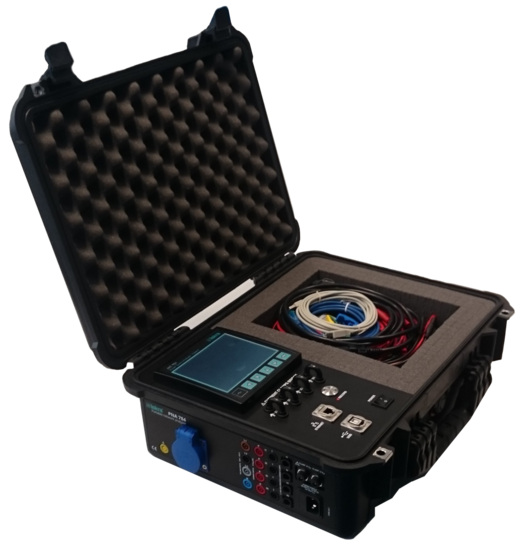 Evaluation of the electricity supply quality in compliance with SIST EN 50160 with automatic report generation,
class A (0.1%) accuracy in compliance with EN61000-4-30 Ed.3,
automatic range selection of 4 current and 4 voltage channels (max. 12.5 A and 1000 VRMS),
waveform and transient recorder with programmable sampling time (max 625 samples/period), pre-trigger and post-trigger time,
half or single period RMS recording with programmable pre-trigger and post-trigger time,
instantaneous evaluation of over 700 electrical measurement quantities values including PQ related parameters, harmonics (voltage/current THDs, TDDs, up to 63rd voltage (PP, PN)/current harmonics and inter-harmonics),
accuracy class 0.1 for U and I (direct current connection, using external current transformers accuracy may drop),
two recorder parts, 8 MB for measurements, alarms and pQ evaluation + 8 GB for waveforms, disturbances and fast trend recorders,
recording of disturbance, trend and Power Quality (PQ) events in trigger related recorders,
data available in standardized Pqdif and Comtrade format,
measurements of minimum and maximum values in different time intervals,
32 adjustable alarms,
wide frequency range from 16 Hz - 400 Hz,
ethernet and USB communication,
MODBUS and DNP3 communication protocol,
FTP server,
NTP time synchronization,
real time clock (RTC), %mylt% 1s/day
AC power supply,
5.7" colour TFT display with presentation of phasor diagram, waveform, harmonics...
adjustable tariff clock, display of electric energy consumption in selectable currency,
internal rechargeable battery for 30 min autonomy,
optional GPRS communication interface,
multilingual support,
MiQen Settings Studio, user-friendly settings and analysis software with FTP communication feasibility for seamless device settings and advanced analysis