Communication gateway iHUB-L1
The iHUB-L1 communication gateway is intended to connect various equipment into communication network via Wi-Fi communication. The gateway has build-in two optical (IR) communication ports and the RS485 serial communication with the MODBUS protocol. RS485 communication enables data transmission and thus connection of communication gateway into the RS485 network and communication with various equipment, which is equipped with RS485 communication (e.g. energy meters, bi-stable switches, power monitoring devices, etc.), via TCP MODBUS.
The iHUB-L1-IO is also equipped with pulse input and temperature sensor (Pt1000) input.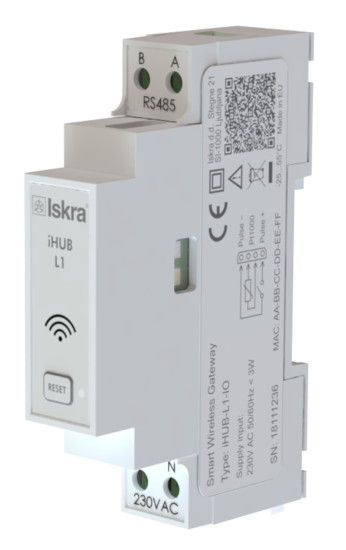 Communication gateway iHUB-L1
• Din-rail mounting according to en60715.
• AC mains power supply.
• RS485 serial communication.
• IR serial communication (2 ports).
• WI-FI communication.
• Pulse input (optional) and temperature sensor input (optional).