AC/DC Current Meter 07021.01
The 07021.01 is designed for measuring AC/DC currents and voltages; adequate for technical instruction but also for measuring at electro-technical equipment and electronics outside school.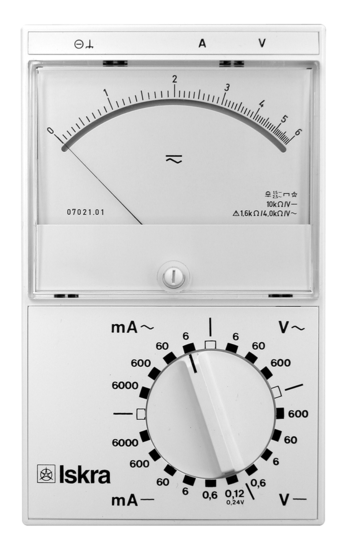 AC/DC Current Meter 07021.01
It has excellent protection against overload. Longlife is assured with robust construction which guarantees protection against mechanical damages. We suggest one instrument for work of two pupils.
Voltage: 240 mV.. 600V DC, 6 V.. 600 V AC
Current: 0.12 mA ...6A DC, 6 mA .. 6 A AC
Input resistance: 10 kΩ/V DC, 4 kΩ/V AC
Accuracy: 1.5 DC, 2.5 AC
Frequency range: 20 Hz ... 10 kHz
Dimensions: 100x 165x 55 mm
Scale with a mirror