What is an EMI filter?
An EMI filter, or electromagnetic interference filter, is an electronic passive device that is used to suppress conducted interference present on a signal or power line. Most EMI filters consist of components that suppress differential and common mode interference.

Basic functions of an EMI filter are to impede the propagation of electromagnetic interference generated by an electronic or electrical device into the mains and to prevent mains interference from affecting electronic equipment. They enable an interference-free operation even in the event of a power supply badly affected by mains interference.
Figure 1: Propagation of interference
A typical EMI filter normally consists of passive components, including capacitors and inductors, connected together to form LC circuits.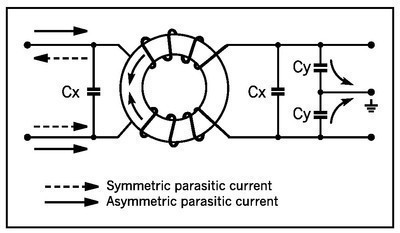 Figure 2:EMI filter components
X-capacitors are connected across the supply lines to attenuate symmetrical (differential-mode) interferences. Y-capacitors are connected between one line conductor and earth (ground) to attenuate asymmetrical (common-mode) interferences.

Current-compensated chokes attenuate asymmetrical interferences, but allow the operating current to pass through.
An additional resistor is usually connected parallel to Cx in order to discharge the capacitor when the filter is disconnected from the mains.
Safety of EMI filter
In addition to meeting EMI regulations, the filter also has to meet safety standards. The capacitors are also individually certified for safety, depending on their position in the circuit. Special "X" capacitors have to be used across the input terminals and "Y" capacitors from the AC circuit to ground.

The most often used sub-classes of capacitors in an EMI filter are X1 or X2 and Y1 or Y2. The sub-class depends on impulse peak voltages. Iskra EMI filters are using capacitors with subclasses X1 and Y2.
| | |
| --- | --- |
| Sub-class | Impulse peak operating voltage |
| X1 | >2,5 kV and ≤ 4,0 kV |
| X2 | ≤ 2,5 kV |
| Y1 | ≥ 8,0 kV |
| Y2 | ≥ 5,0 kV |
Conductive emission test
At Iskra, we use special instruments that show the level of interference in the prescribed frequency range in order to find the appropriate filter that will optimally suppress the interference in a particular device.

Example of conductive emission test on washer acc. to EN 55014 with EMI filter connected: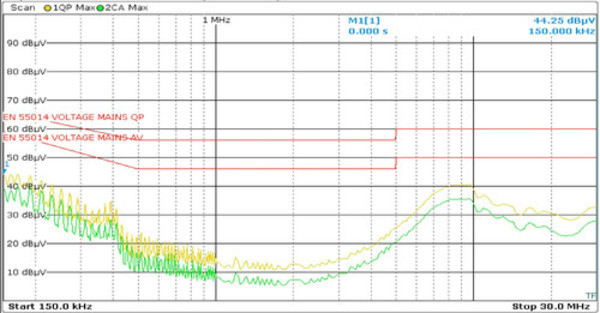 Figure 3: Conductive emission test with EMI filter
ISKRA EMI filters
Iskra produces RFI filters of different shapes. We are launching filters with a wide range of capacitance, for different rated currents, inductances, and with different types of dielectric, depending on customer's requirements. To comply with legal regulations, we take into account all standards in this field, as evidenced by VDE, UL and ENEC certifications. Our typical filters are used in white goods (washing machines, dishwashers, dryers, refrigerators, etc.).

Iskra EMI filters have built-in capacitors made with two different type of dielectrics:
paper impregnated dielectric – type of EMI filter KPL35xx
polypropylene dielectric – type of EMI filter KNL35xx

Comparison of key properties of capacitors regarding to type of dielectric:
Paper impregnated:
During life time no change of capacitance
Higher resistance to surges, ionization
Good terminal contact
High safety construction

Polypropylene film:
Self-healing effect
Lower dielectric loos (tan delta)
Stable capacitance vs. temp.
less moisture sensitivity
higher insulation resistance
EMI filters with paper dielectric, type KPL3524, KPL3508, KPL3523
Capacitance range, class

(0,25 µF – 1 µF), X1
(2200 pF –27000 pF), Y2

Rated inductance
0,3 mH – 1,8mH
Rated voltage
275 VAC
Rated current @40 °C
Up to 16 A
Dielectric
Paper
Electrodes
Al foil
Temperature range
-25 °C to 100 °C
Standards
IEC 60939-2, UL1283
Approvals
ENEC 10, IEC, VDE, RU
Use
In white goods appliances


Figure 4: Type KPL3524 and type KPL3523
EMI filters with polypropylene dielectric, type KPL3524, KNL3508
Capacitance range, class

(0,33 µF – 1 µF), X1
(2200 pF – 27000 pF), Y2

Rated inductance
0,3 mH – 1,8mH
Rated voltage
250 VAC
Rated current @40 °C
Up to 16 A
Dielectric
Polypropylene film
Electrodes
Metallized polypropylene film
Temperature range
-25 °C – 100 °C
Standards
IEC 60939-2
Approvals
ENEC 10, IEC, VDE
Use
In white goods appliances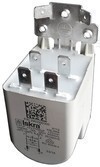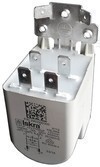 Figure 5: Type KNL3524 and type KNL3508