What does the circular economy mean?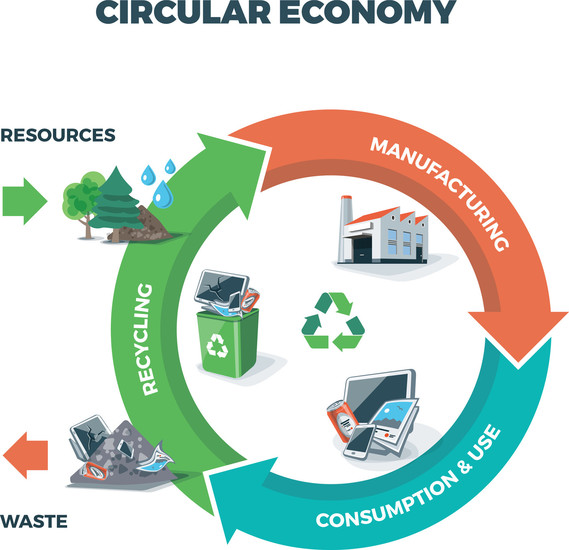 Circular economy
The main purpose of the circular economy is to reduce waste and decrease pollution. In the future, the circular economy will surely replace the current linear economy, which includes production, use, and disposal, unlike the circular economy, which creates a circle of production and re-use.
With the circular economy, we go back to nature. By repeatedly using a particular product, we reduce the amount of waste and positively affect the environment in which we live. We want to keep resources in the consumption cycle for as long as possible. In addition to the production itself and product life-cycle, consumers need to be aware of the consequences. They need to change their patterns and habits. On the manufacturers' side it is also essential to:

• Change the product planning.
• Upgrade the product.
• Select natural or renewable materials.
• Study and apply modular product design.
• Consider product re-use in the final recycling phase.

Interesting data:
Every year, we dump a massive 2.12 billion tons of waste. If all this waste was put on trucks, they would go around the world 24 times. This stunning amount of waste is partly because 99 percent of the stuff we buy is trashed within 6 months. Leading green companies are becoming zero-waste companies. Zero waste is a philosophy that encourages redesign so that all products are reused. (Source: http://www.theworldcounts.com)
Did you know that in addition to the oil industry, the fashion industry is considered the second most polluting industry at the moment? Consumers are not aware of the durability of individual fashion products, as most do not know that low-quality materials and mass production affect the environment. By reducing mass production, the fashion industry would help the environment, people and their health.
Unfortunately, consumer awareness, behavior and purchasing decisions are also influenced by their financial situation and affordability. Higher quality materials that are environmentally friendly increase product price. Reduced production and increased use of environmentally friendly materials will help reduce material supplies and environmental pollution. And we must also consider welfare of animals and workers, as well as their overtime work, which is badly affected by mass production and the fashion industry.
Microplastic as part of a circular economy

As already mentioned, the textile industry, which is also one of the two largest sources of microplastic pollution, presents long-term challenges. Fibers that are longer and therefore better quality are not washed out to the same extent as low-quality fibers. What does this really mean? Lower quality clothing with low-quality fibers (sold by most textile stores) becomes thinner when washed repeatedly, causing microfibers to flush.
By washing clothes, microfibers are released into the water and through municipal wastewater lines, reaching the treatment plant, where they mostly settle in waste mud; however, a very large proportion ends up in watercourses.

Once entering our waters, microfibers attract toxins, pesticides, industrial chemicals, and pathogenic bacteria. Being so tiny, fish confuse them for plankton. These microfibers then enter our food chain, causing severe poisoning, genetic disruption, infertility, and diseases.
Iskra. Innovate. Improve. We support the implementation of new solutions for the circular economy - PlanetCare >>