Tunnel construction and effective safety system installation
In this blog post, we will talk about effective safety system installation and the steps that need to be taken before the start of actual tunnel construction. Over the years, tunnels have become longer and more complex. There are many different types of tunnels, but we will mainly focus on roadway tunnels.
How to build a tunnel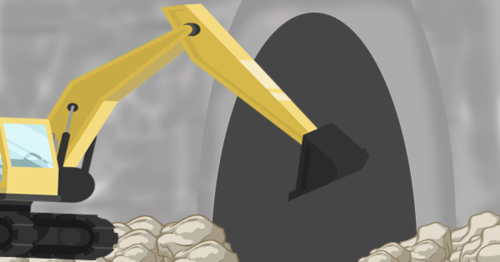 The longer and more complex a tunnel, the more time and equipment will be needed when building it and setting up an effective safety system in the tunnel. A tunnel boring machine (TBM) is the most important tool used for tunnel construction. Horizontal drilling machines, called TBMs, have circular cutting plates on the front and these cutters successfully cut smaller stones and dirt. These plates differ depending on whether it is necessary to dig through a soft or hard surface.

Tunnels can be built in two ways. From bottom to top or from top to bottom. The more common solution is from bottom to top, also depending on where the tunnel is being built (if a tunnel is being built under a city, the second method is used). With the bottom-up method, first a hard base is created, i.e. the lower part of the tunnel, and later the walls and the roof are efficiently constructed.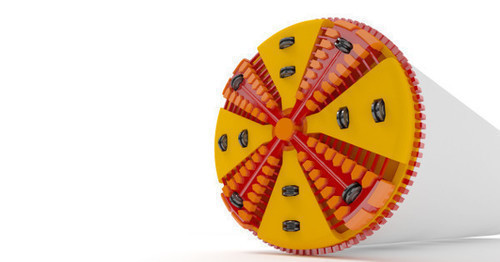 Tunnels that go through hills or under water are usually built simultaneously from two opposite ends or transitions faces. In long tunnels, vertical shafts can be dug at intervals, so excavations in more than two points are constructed. Different types of soil are encountered (soft/hard) in the construction of long road tunnels. In this case, various types of digging are employed. Shields, machines, and sometimes explosives are used. When workers dig through soft soil, they face the threat of falling soil, so they use a shield. The shield may be a cylinder of iron or steel and is intermittently pushed into soft soil. The shields support the soil so that workers do not get trapped. Once a section is complete, the shield is pushed forward and the procedure is repeated. The construction of the tunnel through a hard rock sometimes includes safe and precise use of the explosive. After toxic vapors are eliminated, the workers start to completly remove the dirt with machines and repeat the procedure.

The following steps are drainage, sewage, stabilization, concreting (asphalt should not be used) and, of course, a step that is very important for Iskra - automation.

Improving overall safety in road tunnels
Tunnels represents a great risk, especially when it comes to safety, so it is very important to consider the most efficient tunnel equipment in order to ensure safe driving through a tunnel. A tunnel requires a powerful monitoring system combined with quick service that provides safe and reliable solutions.
Safety in tunnels on motorways is technically supported by:
Traffic control from control canters via video systems
Integrated automated detection systems for fire detection and in some tunnels also with automatic detection of protrusions and congestions
Built-in traffic signalling and communication equipment
Niches in long tunnels
Traffic signalization control system
System of SOS and intercom
Anti-burglar system
Power supply network with two transformer stations
Ventilation systems etc.

Check the example of the Markovec Tunnel, where we implemented a smart traffic system.

Markovec tunnel opened on June 5th 2015 and represents the successful step towards more efficient and safe traffic. In case of emergency in one tube, the other tube adjusts signalization and enable 2 way traffic. Hence, there is more signalization in the tunnel than usual. Also, in case of fire alarm, tunnel is automatically closed without intervention of control centre.

All systems, such as traffic lights, LED signalization, traffic count with inductive loops, emergency call system, video control, fire alarm, management of low voltage equipment and power supply, are connected to regional control centre, where computers and supervisors are monitoring tunnels 24/7. Traffic safety is the key word.

Read more >>