Products for electric vehicle charging stations
At Iskra, everything we do is designed to create powerful and demanding solutions. We also prove this with top components for the electric vehicle charging stations.

1. RESIDUAL CURRENT CIRCUIT BREAKERS (CE, VDE, EAC APPROVALS)

Residual current circuit breakers (RCCB) are used for protection against indirect contact, fire protection and additional protection against direct contact. With types AC, A, B, F, G, S and short-circuit capacity 10 kA, we can cover all our customers' needs. We can deliver RCCB product in 2-pole or 4-pole versions with residual operational currents of 10 mA, 30 mA, 100 mA, 300 mA and 500 mA. The most common types for EV charging stations are types A and B.

RCCB TYPE A up to 125 A
Type A is sensitive to AC and is pulsating direct residual current. Rated currents are from 16A to 125A.

RCCB TYPE B up to 80 A
Type B ensures the same tripping as type A together with smooth DC residual currents, residual DC currents that may result from rectifying circuits and high frequency AC residual currents. Tripping conditions for frequencies up to 1 kHz are defined.

BENEFITS:
short circuit capacity 10 kA
special type for ambient temperature -35°C
RCCBs with left N-pole on request
suitable as isolator
rated currents: up to 125A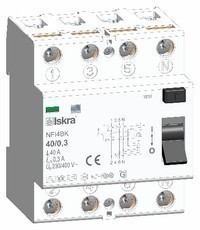 2. MINIATURE CIRCUIT BREAKERS (CE, VDE, GOST-R, CE APPROVALS)

Miniature circuit breakers are used for overload and short-circuit protection of installations and devices, and as disconnectors in the event of an electric shock. With short-circuit capacity of 10kA, they ensure safe and reliable electric vehicle charging.
Number of poles: 1, 2, 3, 4, 1+N, 3+N
Short circuit capacity: 10 kA
Tripping characteristics: B, C, D, M
Rated voltage: 230/400 V

BENEFITS:
Provided with two springs, namely for mounting on 35 mm wide rail (EN 60715). The springs enable simple taking off, regardless of whether a busbar is positioned below or above.
For faster and more effective use, colours of MCBs add value.
Auxiliary contacts.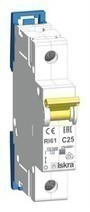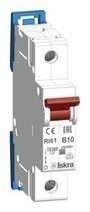 3. INSTALLATION CONTACTORS (CE, NF, CB, EAC CE APPROVALS)

Installation contactors are the most flexible switching devices in all types of applications. In electronic systems, they provide reliable, safe and efficient management of electrical equipment. They are mainly used for switching small motors (up to 15 kW), electrical heating, lightning and other electronic equipment, and are integrated in EV charging stations.

We have 2-pole and 4-pole versions of up to 63 A, with an AC or an AC/DC coil inside. Because of AC/DC coils, contactors are silent (hum-free) and without inrush current and voltage. If electrical equipment is sensitive to RFI interferences, they can be reduced with type KNB filters (optional).
BENEFITS:
no inrush current (with AC/DC coils)
RFI suppression (using filters)
special version: 2-pole 32 A contactor in 1 module, changeover contacts
extremely long mechanical endurance (up to 10 million)
switching motors of up to 15 kW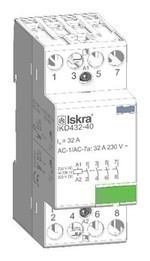 4. POWER DISTRIBUTION BLOCKS (CE APPROVAL)

Distribution of power can be easier by using compact distributors. Power distribution blocks offer the possibility of reducing fitting times. They can be easily snapped on the DIN rails and removed whenever required. In addition, it is possible to screw the distributor directly on the mounting plate. Conductors of up to 300 sqmm can be connected with maximum current of up to 800 A. The output side can be fitted with up to twelve conductors.
The cover can be opened and closed as often as necessary without tools. Blocks are safe (IP20) with high-circuit proof of up to 50 kA, and are printed in different colours for neutral conductors, PE conductors and DC applications. Basic types are used for copper conductors; in addition, some types are used for aluminium and copper conductors.
BENEFITS:
1.5 module version of up to 125 A
colour marking plates
5. FUSE SWITCH DISCONNECTOR for cylindrical fuse-links (CE APPROVAL)

Fuse switch disconnectors can be mounted on DIN rails. Fuse-links can be changed without danger of direct contact of parts under voltage. Furthermore, a fuse carrier assures that a fuse link is not in contact with the housing. Plastic components are resistant to extremely high temperatures.
They can be delivered in 1-pole, 2-pole, 3-pole versions, as well as in 1-pole+N and 3-pole+N versions with maximum current of up to 100 A. Versions with electronic indicator are available – control LED diode or NEON lamp for operating control.
BENEFITS:
changing fuse link without any danger
lamp operating indicator
modular design – it's possible to assemble multi-pole versions (DIN rail)
6. ENERGY METER WM3-6 and WM3M6 (CE, MID APPROVAL)

Bi-directional energy meters WM3-6 and WM3M6 (MID approval – optional) are intended for energy measurements in three-phase electrical power networks, and can be used in residential, industrial and utility applications. DIN-rail mounting meters with Class 1 for active energy (EN 62053-21 and B according to EN 50470-3) and with Class 2 for reactive energy (EN 62053-23). Maximum current is up to 80 A, energy meters have standard IR communication, as well as optional RS-485, M-bus, tariff input and pulse output.

Energy meters provide measurements for:
power (active/reactive/apparent)
voltage for each phase
current for each phase
phase to phase voltage
phase to phase angle
frequency
power factor (for each phase and total)
power angle (for each phase and total)
active tariff (option)
BENEFITS:
MID approval – optional
bi-directional metering
3 DIN modules width
display 7+1 digit (100 Wh resolution)