Energy management – a case study, lower your costs by 38%
When we talk about energy management, we are mostly focusing on energy consumption. Do you know what it is all about? Most of all expenditures in a typical building are actually energy-related. Electricity means electric, gas, water... The important fact is that energy costs are increasing. By installing our system and constantly monitoring your data, you can save a lot of money (the figures verify based on building size). Though every solution gives you an energy target and data, with our solution you will measure, analyse and act towards a better future with lower costs.

HOW CAN YOU CONSTANTLY IMPROVE YOUR CONSUMPTION?

By planning (based on historic consumption and data analytics), you will ensure constant improvement of energy consumption for your company. By using our monitoring tool, you will have a graphic overview of data collection. With our analytics solutions for collected data, you will be able to determinate efficiency, reliability and capacity of an energy system. As a result of analytics, the solution offers insights into expenditure of largest energy consumers, the sources of uncontrolled usage of energy, detection of misused energy systems, etc., which is further used in (re)planning. Get to know the tool for remote data collection, connected to the Central Control System, which determines optimal energy volume in building/site and shows energy consumption.

By constant improvement, you will achieve the following benefits:
Cost savings due to energy consumption optimisation.
Predictable usage of energy resources.
Centralised view at different sites of a company (multi-location).
Detection of energy system failures and/or outages.
The solution covers different energy resources (electricity, gas, water, heating water…).
Information about unexpected and/or unusual patterns in energy usage.
A CASE STUDY
Below you will see the case study with actual Iskra solution data. You can see that January costs are lower by €3,991 in 2017 in comparison with 2016, representing a decrease of 38.10%.
2016
2017
Index
Savings*
November
Consumption
MWh
93
63
-30
40.10%
Temperature deficit
K day
361
408
47
Cost
EUR
5,330
3,861

-1,469

December
Consumption
MWh
177
118
-59
25.70%
Temperature deficit
K day
627
562
-65
Cost
EUR
9,035
5,940

-3,095

Table 1: 2017 in comparison with 2016 in November and December.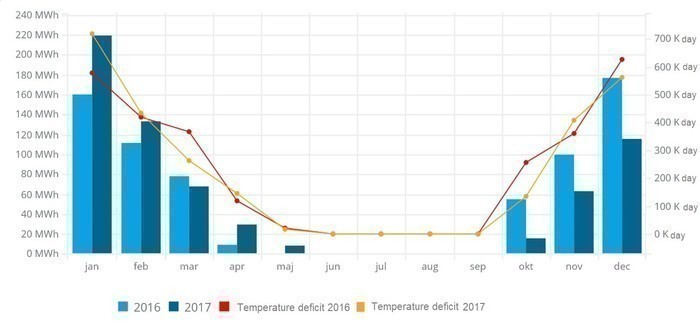 Graph 1: 2017 in comparison with 2016.
2017
2018
Index
Savings*
January
Consumption
MWh
219
89
-130
38.10%
Temperature deficit
K day
719
472
-247
Cost
EUR
8,327
4,336

-3,991

February
Consumption
MWh
133
105
-28
39.20%
Temperature deficit
K day
434
563
129
Cost
EUR
5,686
4,827

-859

Table 2: 2018 in comparison with 2017 in January and February.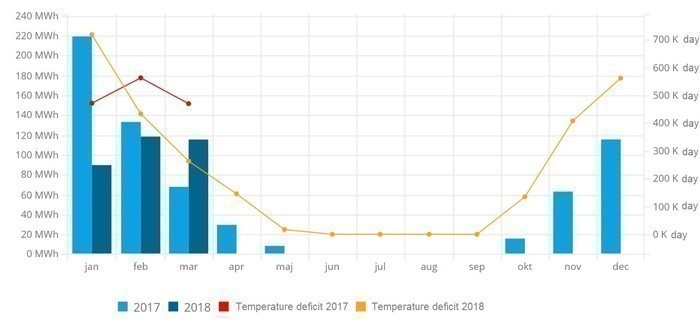 Graph 2: 2018 in comparison with 2017.
Our system uses special equipment to remotely affect certain systems present in the building (i.e. it separates branches of heating, affects circular pumps or mixing valves…) and optimises the use of energy in the building.