Amplifier TAM HCA 1122 R
These equipments are used to amplify FM and TV or CATV signals in the apartments. In case you have important distances of interior wired and input signal is not enough, an amplifier of this series can be used.
The particularity of this model is in its high output level that allows it to work with a great number of channels, typical feature in CATV nets.
It is very important to keep in mind that these amplifiers should be used when the signal still has enough quality. Output level of these amplifiers must decrease according to the number of distributed channels.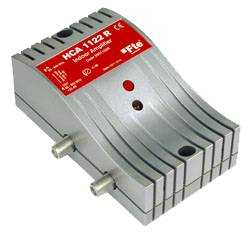 TAM HCA 1122 R
Channels: Ch. 2-69
Frequency Bands: 47–862 MHz
Gain: 22 dB
Output level DIN 450004 B: 111 dBµV
No. of Inputs: 1
No. of Outputs: 1
Attenuator: 6 dB
Return channel: 5-65 MHz
Mains: 230 VAC, 50 Hz