Amplifier TAM 1420 LTE
These equipments are used to amplify TV and FM signals indoor. Where distances of indoor cable are long and input signal is not enough, an amplifier TAM 1220 LTE can be used.
It is very important to remember that these amplifiers must be used when the signal has still enough quality.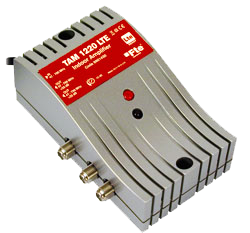 TAM 1420 LTE
Channels: Ch. 2-60
Frequency Bands: 47–790 MHz
Gain: 20 dB
Output level DIN 450004 B: 100 dBµV
No. of Inputs: 1
No. of Outputs: 4
Attenuator: 10 dB
Return channel: no
Mains: 230 VAC, 50 Hz