Indoor Antenna G-2235-07
The indoor antenna G-2235-07 is particularly designed for internal use, provides high reception quality. The antenna includes a coaxial extension with IEC connector for connecting it to any TV set.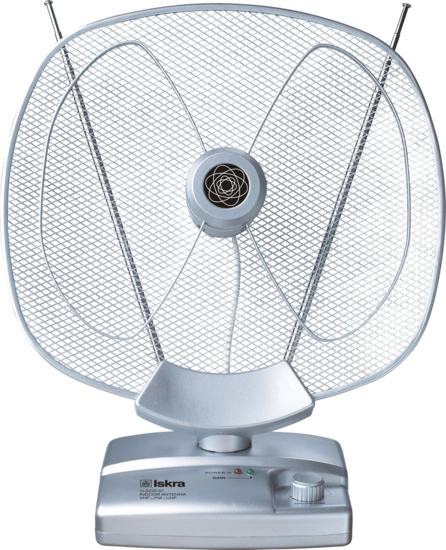 Indoor Antenna G-2235-07
A large flexibility in use is guaranteed because of the possibility to receive both horizontal and vertical signal. Indoor antenna can be connected to the centralized TV antenna system or can be used as single antenna.
It has easy adjustable built-in amplifier.
Receiving antenna's units can be adjusted:
length and angle adjustment of both telescopic antennas
turning or slope the central receiving unit (depends on indoor antenna type)

Indoor antenna operates with direct connection to power supply source AC 220V, 50 Hz, or directly connected to an external DC 12 V source (car, boat, caravan, etc.). Because of that reason this antenna is ideal to be used for home and camping

Antenna enable rotation of central receiving unit.
Channels (frequency): FM & VHF Ch. 2-12 (47-230 MHz) ; UHF Ch. 21-69 (470-862 MHz)
No. of elements: 3
Gain (adjustable): FM & VHF 26 dB ; UHF max. 36 dB
Gain control: FM & VHF 15 dB ; UHF 25 dB
Max. output level: 95 dBμV
Imput impedance: 75 Ohm
Power supply: AC 220V, 50 Hz ; DC 12V, 100 mA
Antenna is packed into printed carton gift-box.